Pensacola, Florida, United States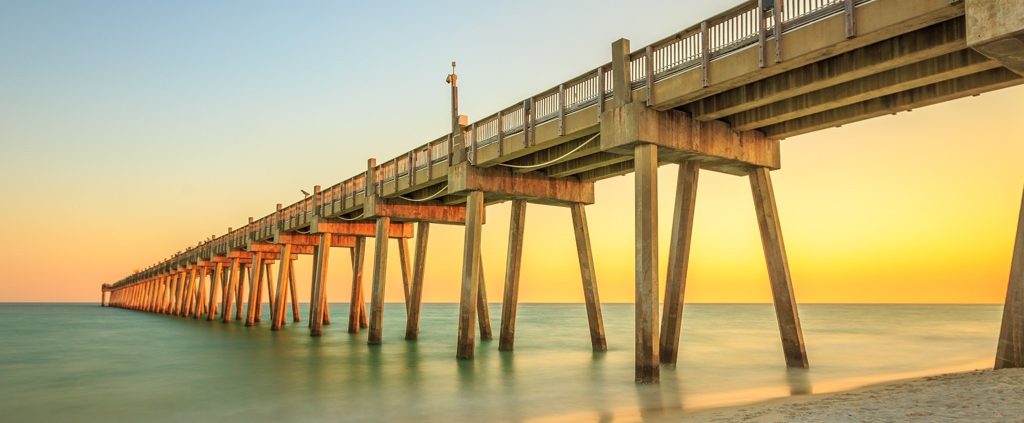 There is a wide array of fishing possibilities in Pensacola. Pick from your choice of top Florida fishing locations, such as Ft. Morgan, Gulf Shores, Orange Beach, Perdido Key, and Pensacola Beach. You can even gain access to Orange Beach, Alabama. They're all family-friendly fishing locations and make ideal vacation destinations.
As far as inshore fishing options, you'll have Big Lagoon, Old River, Perdido Bay, Escambla Bay, East Bay and pensacola Bay. The most revered areas to fish are
the bedded, grassy areas of Old River and Big Lagoon. They're fed by several or more creeks and rivers. The flats by the coast are said to be prime fishing territory. Also, The dock areas hold plenty of speckled trout, redfish and flounder.
If you're doing some Alabama fishing from the Florida border, you can access plenty of man made reefs. They hold lots of fish. You can find snapper and grouper in fall and summer. Cobia are really active in these areas during spring. Mackerel are more active during the summer. Anglers catch the most when they troll close to the coast. If you're looking to catch big game fish, target billfish and tuna during winter months.
Main Species of Fish 
There are numerous fish species. If surf fishing is your forte, then you'll have access to plenty of redfish, flounder, pompano, ladyfish and sharks. For inshore fishing options there are speckled trout, Jack Crevalle and sheephead.
Nearshore you'll have your pick of cobia, Spanish mackerel and king mackerel. There's also plenty of bottom fishing options like mangrove snapper, snowy grouper snapper, black snapper, amberjack and triggerfish. Or you can go offshore fishing and catch wahoo, mahi mahi, sail fish, swordfish, marlin and tuna.
Best places to Fish in Pensacola
The grass flats of Big Lagoon and the dock lights of Old River offer some of the best speckled trout fishing in all for Florida. Hit the lagoon during the day, and the docks at night. Try hitting the the bridge pilings and rocks in the pass between Perdidio and Orange Beach. For good winter fishing in Pensacola be sure to hit these same exact spots for sheephead.
November is the best time to go floundering in the eastern point of Perdido Key. You can find boat ramps in the Cotton Bayou on the eastern side of Orange Beach. Hub Stacies is another place where you can find a ramp. It's located just off Innerarity Point.
Ft. McCray and Perdidio Pass are the two main gateways to the open water.
As far as water boundaries go, it can be a bit tricky. Fort McCray is located in Florida, whereas Perdido pass is in Alabama territory. Old River is laterally split in half by the state line. It's a smart idea to locate and target structures while fishing in this area. Visit with Alabama Marine Resources and get a map. If you're bottom fishing, stick with the Alabama coast. To access public boat ramps for deepwater angling, use the National Sea Shore in Pensacola Beach.
Best Fishing Gear for Pensacola 
First things first —wherever you fish, make sure you bring a waterproof jacket. It ends to rain a good bit in Pensacola. Having said that, if you're looking to do some inshore fishing, then use live bait for the best results. You can find all the live bait options you need at Grays Tackle Shop or Tops Gun Tackle. The locals there can tell you what's working best.
For bottom fishing, use cut bait on a hook. Be sure to bring  plenty of chum and cut bait. Because there is debris on the wrecks, use thick leaders. Make sure you bring a bat as well do deal with the remoras.
If you're heading out to do some offshore fishing, make sure you use a big boat filled  with plenty of gas. It can take a lot of gas to seek out blue water and troll for gamefish like marlin, tuna, and swordfish. Make sure you bring a wide variety of trolling rigs, and check with local guides and anglers before heading out on the boat. And always know the weather forecast for Pensacola before you head out to fish.
https://fishory.com/wp-content/uploads/2018/02/pensacola_beach.jpg
768
1024
Fishory Staff
https://fishory.com/wp-content/uploads/2017/10/fishory_logo_color-300x138.png
Fishory Staff
2018-02-27 22:58:40
2022-05-23 18:27:24
Pensacola, Florida, United States